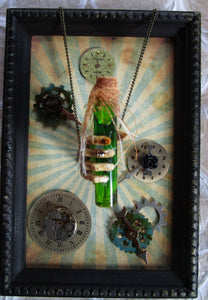 Welcome! An update:
Hope you are doing well! My mother and I started Waxing Sky Studios few years back and had a lot of fun creating and sharing works. She passed away in January of this year and I've been taking some time off (haven't had anything open since October of 2022 so it's almost been a year -- a very, very long year) but I think I have everything in order and my brain is working enough to open back up. It's almost me and my mom's favorite season so I have to push myself to open up for it! (Yay Halloween!)

My mother's art pieces and other things she made are online because she always wanted them to find good (and spooky ;)) homes. Aromaparody (candles) and Neon Shores (resin works, jewelry, other random bits and bobs) are back online as well.

I wanted to put a note in here for anyone who might have ordered from us and came here from our business card (or came back to buy something else -- thank you :)). Thank you so much for your understanding and patience with all of this. <3
Our Studios
Sauvage Raven Creations
Deborah's home of the macabre and one of a kind. In her own words: "If your looking for OOAK (One of a Kind) Curious Goods, anything otherworldly, strange, unusual, off the beaten path, eclectic, well you've come to the right place."
Neon Shores
Anything Heather creates that isn't a candle goes under Neon Shores -- which is the name of her creative website! She dabbles in jewelry-making, resin, photography, accessories and sewing -- so you could see one or more of those things in the projects under the NS name!
Aromaparody
Heather's collection of fandom-inspired soy candles! Every hand-poured soy candle that is part of AP has been carefully mixed with the right amount of dye and scent -- and is made with love and a touch of that familiar excitement you feel when you experience your favorite game, movie, book, etc. Sort of like you're coming home. ;)